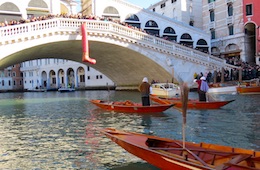 6 January 2018 at 10.30 — Rialto Bridge
Programme
9:30
Departure of the boat parade from the Bucintoro boathouses on the Zattere which accompanies the five Befane on their mascarete with their brooms, towards the Grand Canal where the race will be held.
10:30
Arrival of the boats at the Rialto Bridge. The giant Christmas stocking made of Rubelli damask, symbol of the holiday, will be suspended on the bridge to the sound of Venetian music.
10:45
Presentation to the spectators of the Befane, the five contestants, and drawing of starting positions.
11:00
Start of the regatta. The starting line is at Palazzo Dolfin Manin (Bank of Italy). Contestants row towards Sant'Angelo, and then around the mark (the "paleto") in front of the Rio di San Polo, and then race back up the Grand Canal to the Rialto Bridge.
11:15
Finish under the Rialto Bridge.
11:30
Crowning of the "BEFANA 2018" and award of prizes.
On the Riva del Vin at the foot of the Rialto Bridge, the Pink Lionesses of Venice will offer their famous mulled wine along with tea, hot chocolate, Christmas cookies, sweets and treats to all, great and small.