Lessons and courses in Venetian Rowing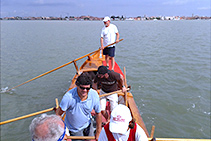 Individual and group lessons in Venetian Rowing are organised from time to time and on request. For more information contact the secretary at segreteria@bucintoro.org or +39 041 520-5630 11.30 AM to 3.30 PM, Tuesday through Saturday.
Members who wish to learn or perfect their technique can sign up for lessons. A monthly calendar with the times and dates of classes is available from the secretary's office.
Venetian Rowing Vocabulary for Foreigners